When we opened Oasis in 2010 we were the only truly farm to table restaurant on Kauai. Our Chef was buying produce from the weekly farmers markets throughout the island and fresh caught local seafood from sustainable long line fishermen. It was a challenge to have a consistent supply of produce at that time, as there was only a handful of small farmers. As the support of local farmers has grown so has our ability to expand our menu. We support the local farmers where you may see our Chef filling up his hand cart with locally produced treasures. Our current menu is comprised of items from several sources including Makaweli Ranch grass fed Kauai beef and Niihau raised sheep and Éland, Kunana Dairy products, Growing Strong Farms produce, Passion Bakery breads and buns, Papalani Gelatos, McPhee's Bees honey and honeycomb, Kailani Farms produce, Kauai Coffee straight from the plantation to you, Auntie Lisa produce, legendary Kauai fisherman Kevin Yamase and many others not named here. From Oasis's inception, we have remained rooted in our design of sourcing as many locally grown products as possible and supporting single-source farmers, handpicking ingredients whenever possible. Holding true to this philosophy of supporting community producers, our wine program supports biodynamic and organic farms that prioritize sustainability, we support local craft breweries, and we create the freshest cocktails from local ingredients.
When you come to Oasis you will be dining in a beautiful oceanfront setting with your table just steps away from the beach. Every table has an ocean view and there is also a seaside walkway for a stroll before or after dinner fronting the restaurant. If you are lucky enough to dine on a night when the moon is rising, you will be amazed at the spectacular panorama over the ocean. Our chefs are always experimenting with new products and new ways of using what our island has to offer. When you visit us be prepared to taste something you've never had before! We invite you to join us at Oasis for a truly farm to table experience.
EXECUTIVE CHEF SEAN SMULL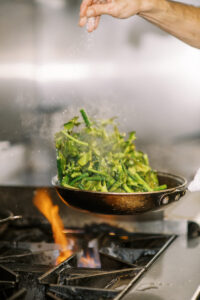 Executive Chef Sean Smull was born and raised in Arizona and moved to Kauai in 2012 to pursue a career working with Hawaiian ingredients. He is motivated not only by the unique produce that Kauai has to offer, but the feeling of community that he gets from working with farmers and purveyors. He takes pride in learning about underutilized products as well as traditional dishes from the diverse cultures that call Hawaii home, turning them into his own creations to share with our customers. We endeavor to be as sustainable as possible, utilizing local ingredients to make dishes that are as unique as they are flavorful. Our Chef goes to the farmers market weekly to see what is coming in and out of season and to select the best produce available. He thrives on talking to the community about techniques, developing new dishes and the next new ingredients that Oasis is bringing to the table.